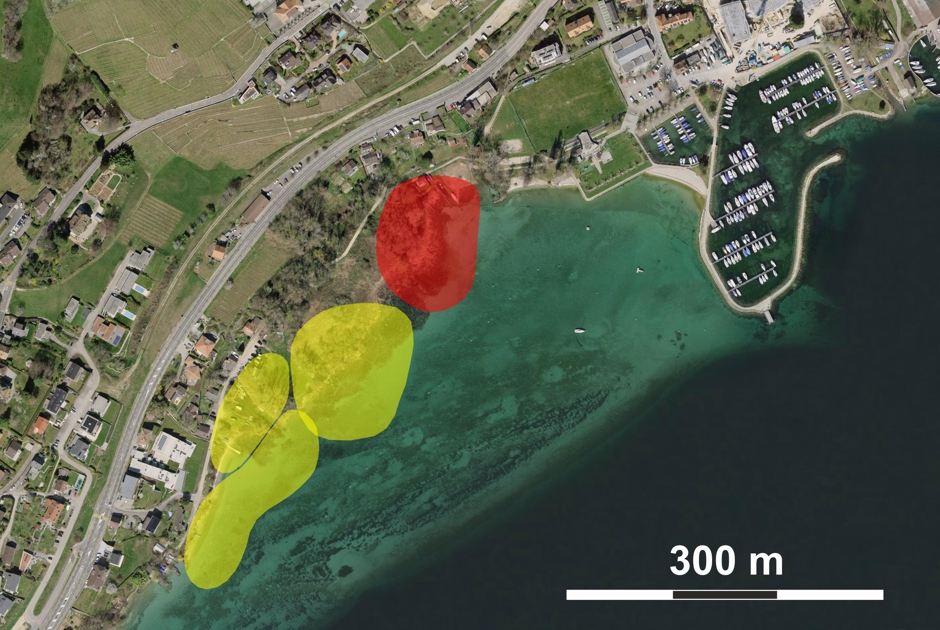 CH-NE-01
Pile Dwelling sites of Saint-Aubin-Sauges, in red: the Port-Conty station, listed as a UNESCO site, in yellow: associated sites © Geodata: SITN Neuchâtel, graphic: P. Corboud
 Saint Aubin |  Sauges Port Conty
Short Description
currently only available in French
Cette station a été exondée lors de la sécheresse exceptionnelle de l'hiver 1853-1854, mais elle n'a été signalée, pour la première fois, qu'en 1860. Dès 1921, à l'occasion d'une nouvelle sécheresse annuelle, l'archéologue neuchâtelois Paul Vouga entreprend des petits sondages et de grandes tranchées, afin de préciser l'extension du gisement. Ces travaux se poursuivent jusqu'en 1938 et il distingue trois périodes d'occupation successives. La couche la plus ancienne appartient au Cortaillod tardif, qui a permis de définir le faciès Port-Conty, daté de 3500 à 3300 avant notre ère. Elle est suivie par un horizon du début du Néolithique final, soit la culture de Horgen, avec deux occupations distinctes, probablement deux villages. Le plus ancien est aujourd'hui daté par la dendrochronologie de 3160 à 3159 av. notre ère, tandis que le suivant a livré des dates d'abattage de 3064 à 3062 av. notre ère. La phase d'occupation la plus récente est attribuée à la culture Auvernier-Cordé. Elle a livré des poignards et couteaux en silex du Grand-Pressigny, un silex de grande qualité importé depuis un gisement de Touraine, au centre de la France.
 Neolithic
 Middle Neolithic - Eneolithic
 Lake Neuchâtel
 428 m.a.s.l.
Size of the site 1,04 ha / approx. 1-2 soccer pitches
Size of the bufferzone 7,00 ha / approx. 10 soccer pitches
Special Features & Highlights
currently only available in French
Plus récemment, un examen de la documentation de Paul Vouga a permis de mettre en évidence une butte de terre artificielle, édifiée au sommet de la couche inférieure. D'une surface d'environ 20 x 10 m et épaisse de quelques 70 cm, cet aménagement pourrait correspondre à la base d'un bâtiment central, de fonction cérémonielle, comparable à celui de la station littorale contemporaine des Piécettes à Marin-Epagnier.
Decorated pots and bowls, 4 to 12 cm in size, Middle Neolithic, Cortaillod culture © Laténium, Marc Juillard
Pile Dwellings up close
currently only available in French
Le mobilier du site de Port-Conty est conservé au Laténium
Laténium, parc et musée d'archéologie
Espace Paul Vouga
2068 Hauterive
+41 32 889 69 10
latenium@ne.ch
au site web