CH-FR-07
General view of the small Seedorf lake from the south. The red area marks the site. In the background left: the village of Noréaz, right: the hamlet of Seedorf © SAEF © SAEF
 Noreaz |  En Praz des Gueux
Short Description
currently only available in French
Cette station a été découverte en 1971, lors de travaux de drainages agricoles à l'extrémité occidentale du petit lac de Seedorf. Selon des carottages récents, le site s'étend sur environ 1'200 m2. Malgré le risque d'atterrissement du terrain, les couches archéologiques attribuées au Néolithique moyen (Cortaillod) présentent une bonne conservation. Le mobilier et les éléments architecturaux ont été datés entre 3885 et 3816 av. notre ère. L'altitude de cette station (610 m) et sa localisation dans une zone marécageuse proche d'un petit lac, en font un exemple unique pour la région.
 Neolithic
 Middle Neolithic (classic Cortaillod)
 Lake Seedorf
 610 m.a.s.l.
Size of the site Size unknown
Size of the bufferzone 2,02 / approx. 3 soccer pitches
Special Features & Highlights
currently only available in French
L'altitude relativement élevée de cet habitat néolithique et sa situation indiquent qu'il s'agit d'un site littoral de faible extension. Il devait être établi à proximité de la rive ancienne de ce petit lac. La conservation en milieu humide des structures ligneuses et de la couche archéologique le fait appartenir à la série des sites palafittes.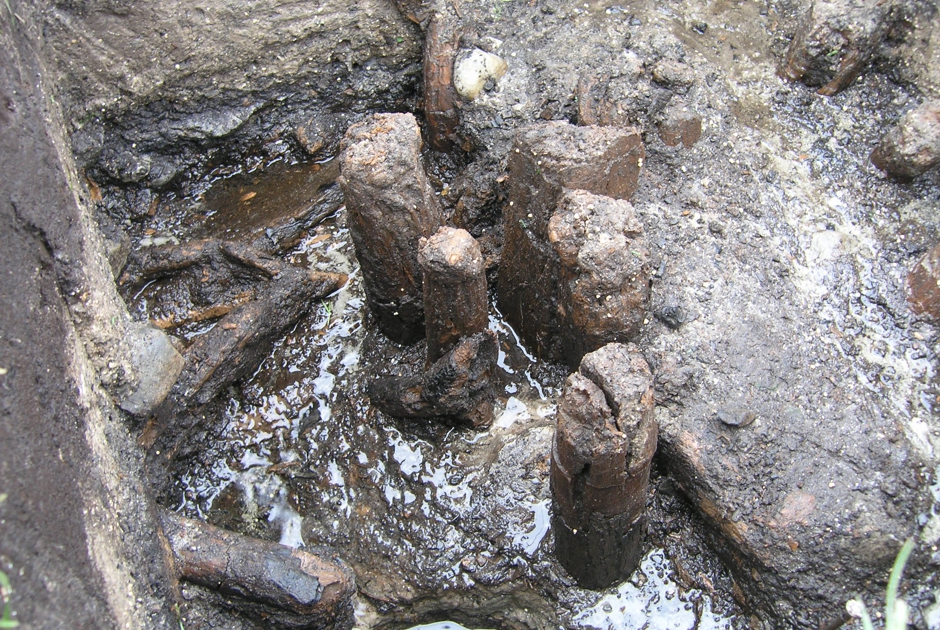 Piles from one of the archaeological layers © Service archéologique de l'Etat de Fribourg