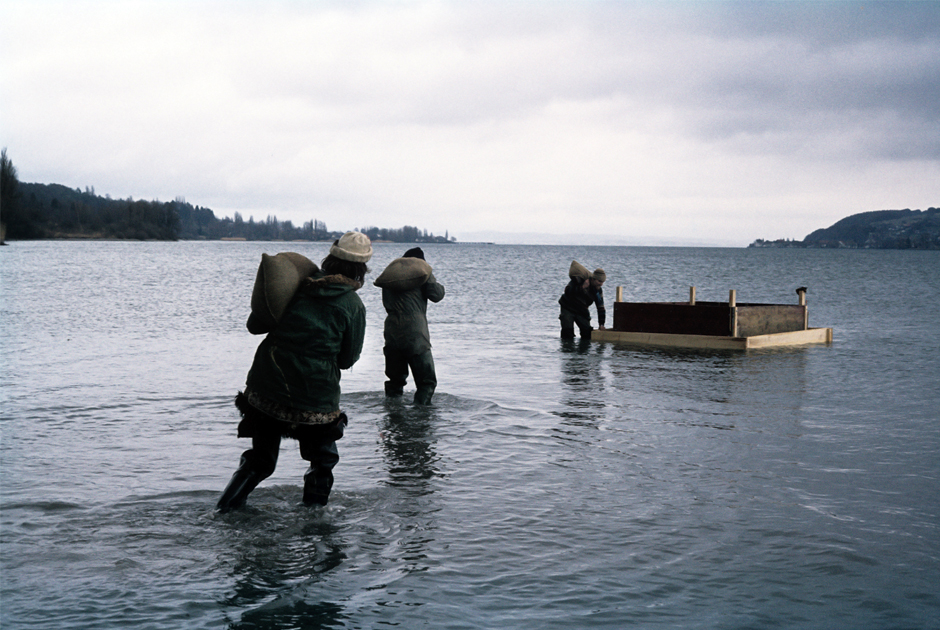 DE-BW-01
Site preparation for the winter 2012 © Landesamt für Denkmalpflege im Regierungspräsidium Stuttgart (LAD)
 Ohningen |  Wangen-Hinterhorn
Short Description
The site of Wangen-Hinterhorn was discovered in 1856 and represents the first prehistoric pile dwelling site, identified in the shallow water zone of the Bodensee. The examination of the sediments shows three settlement phases, with important assemblages associated with the "Pfyner", the "Michelsberg" and the "Horgen"cultures, respectively. Large parts of the archaeological sediments remain buried and untouched in the ground.
 Neolithic / Bronze Age
 825-3500 B.C. and 3246-2844 B.C.
 Lake of Constance (Untersee)
 396 m.a.s.l.
Size of the site 2,6 ha / approx. 4 soccer pitches
Size of the bufferzone 3,2 ha / approx. 4 soccer pitches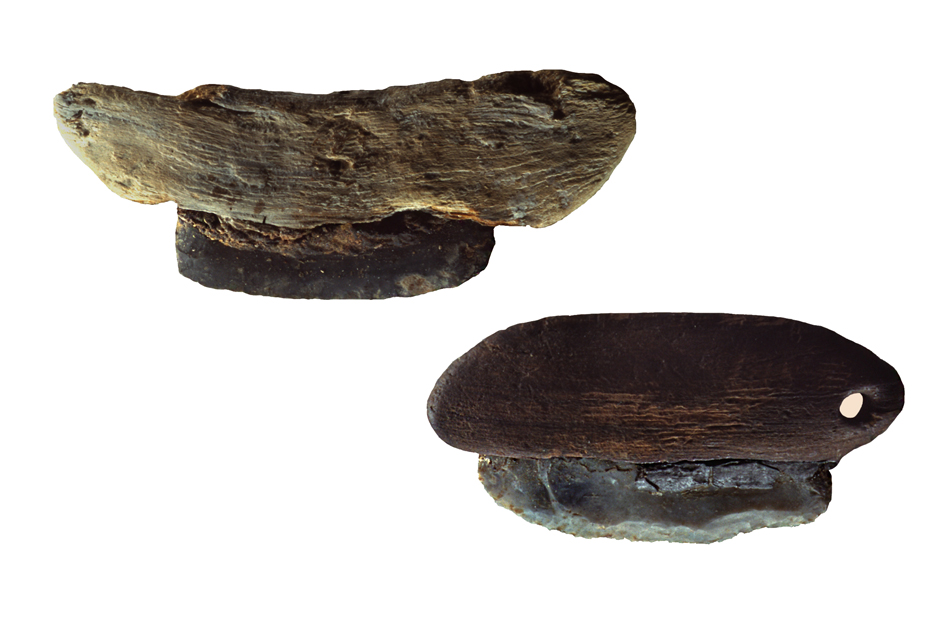 Composit "Fist-Knives" made of flint, wood and bark. Top: Pfyner culture, ca. 3800-3700 BC. Bottom: Horgen culture, ca. 3000 B.C. © Landesamt für Denkmalpflege im Regierungspräsidium Stuttgart (LAD)
Current Activities
Today, the site is covered by a layer of geotextile and gravel, for protection. The site is regularly monitored and controlled by the Department of Antiquities and Monuments.
Pile Dwellings up close
Find out more about the pile dwelling site of Wangen-Hinterhorn at the Museum Fischerhaus Wangen.
Museum Fischerhaus Wangen
Seeweg 1,
78337 Öhningen
to the website