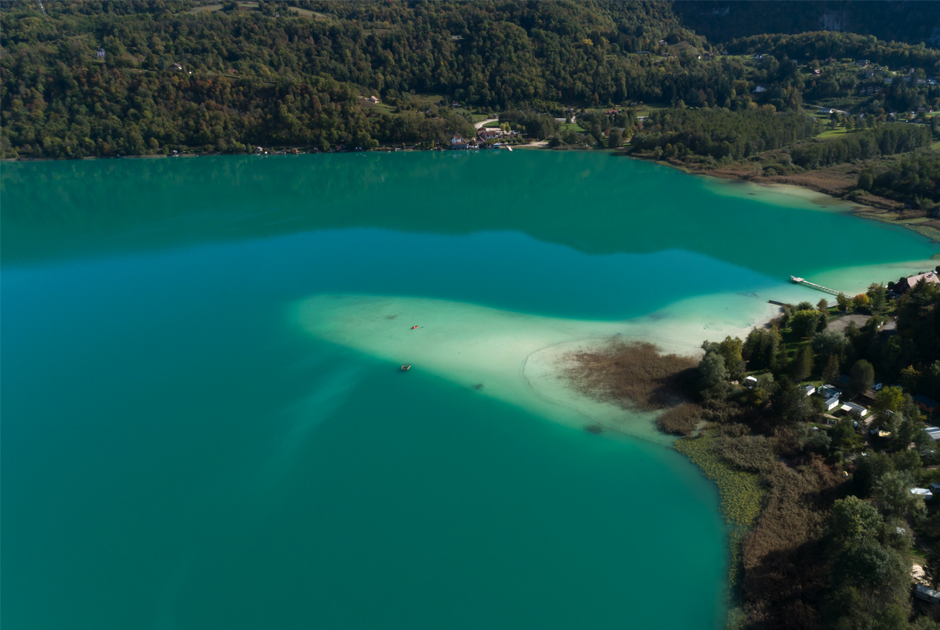 FR-73-01
Aerial picture of the peninsula Beau-Phare, westerly © Olivier Veissière
 Aiguebelette-le-Lac /Saint-Alban-de-Montbel |  Lac d'Aiguebelette zone sud
Short Description
The site was known as early as 1863, and artefacts were collected from there, up until the 1920s. In the 1950s, archaeological diving observations began, followed by a number of surveys in 1971. In 1983, the extent of the settlement was estimated, and in 1988, first dendrochronological dates were proposed. During the 2016 monitoring program, the general organization of the village was documented. Since 2018, the results of topographical campaigns have made it possible to refine the interpretations. The site is located in a special topographic position, at the head of a peninsula: 150 m long and a maximum width of 65 m. Its overall extent is estimated at 4500 m². The water depth is shallow, from 0.5 m to 2 m.
 Neolithic
 Late Neolithic, 2693 – 2672 B.C.
 Aiguebelette Lake
 372 m.a.s.l.
Size of the site 0,64 ha / environ 1 terrain de foot
Size of the bufferzone 42,87 ha / approx. 60 soccer pitches
Special Features & Highlights
The topographical survey of 3000 m² with 2050 piles - about two thirds of the site - illustrates the organization of a Late Neolithic village at the Savoy lakes, for the first time. A single throughway, visible for 55 m, crosses three palisades across 20 m, followed by a housing area with many buildings in perpendicular alignments. This organization differs from that of the contemporary site at Dauphiné, in the Lake of Paladru, only 25 km to the South, while it is similar to sites located more than 100 km to the north, in the Jura.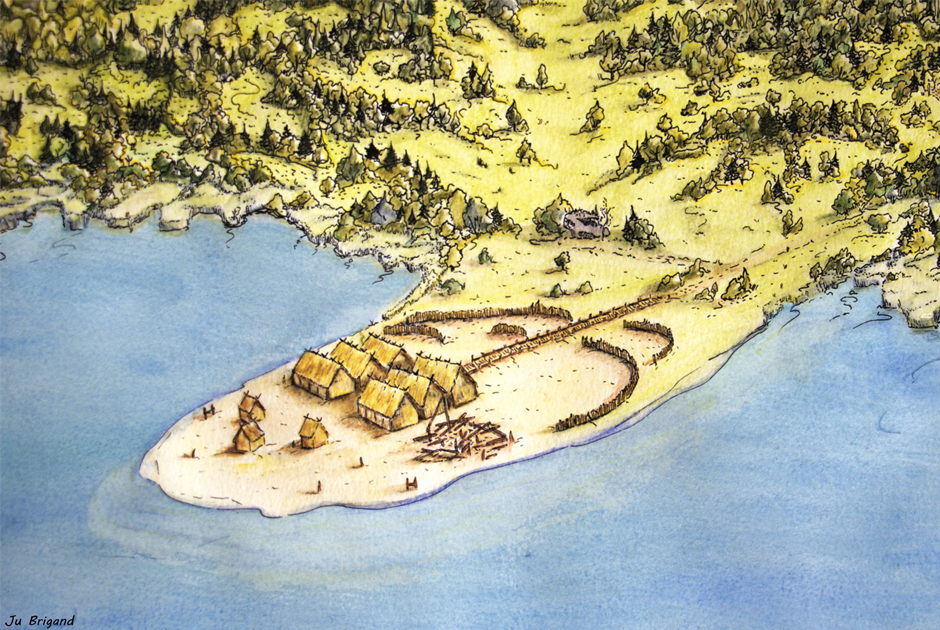 Artist rendering of the Late Neolithic pile dwelling site at Beau-Phare, based on field notes from 2018 © Juliette Brigand
Current Activities
Since 2018, surveys have been carried out every autumn. The shallow depth of water makes the site particularly vulnerable to trampling by swimmers, especially during the summer. It is planned to include it within the area of protection of the reed beds, by extending the perimeter markings of the restricted zone. After receiving a report of a diver equipped with a metal detector, the Gendarmerie began an investigation, and in the beginning of 2020, it led to the seizure of a very large quantity of archaeological objects from the lake and its surroundings.
Pile Dwellings up close
The site is visible only from boat. It cannot be visited, but every year, during the 3rd weekend of September, during the Heritage Days, educational activities and a conference are organized on the shores of the lake.