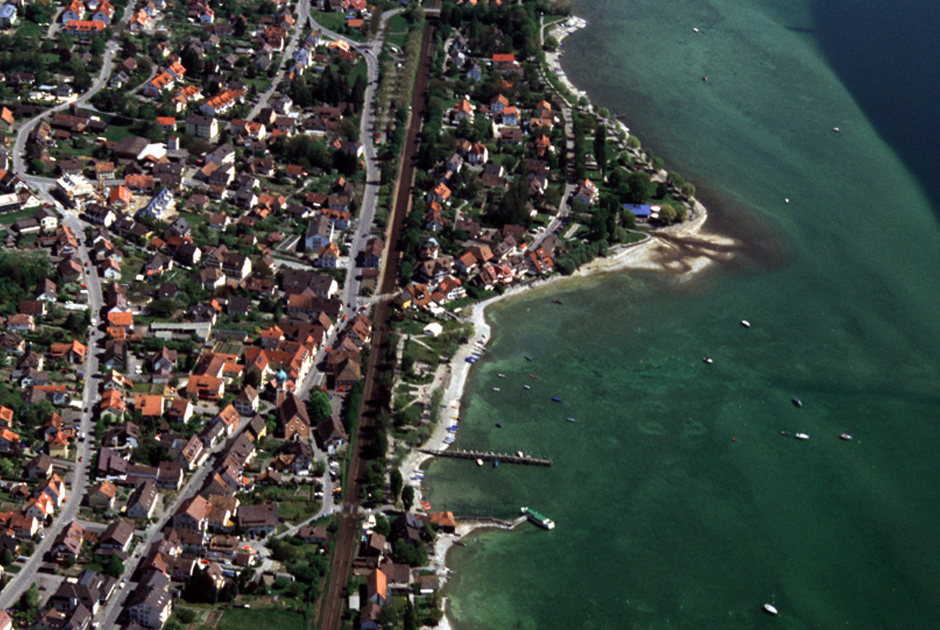 DE-BW-04
Aerial view of the site area along the Allensbach shoreline © Stefan Egenhofer
 Allensbach |  Allensbach Strandbad
Short Description
The site was discovered as early as 1861 and was archaeologically examined by the Baden-Württemberg Department of Antiquities and Monuments from 1983 to 1988, as well as from 2002 through 2003. The site was settled in several phases, dating from the middle to the later Neolithic period, and is dominated by artifacts that are ascribed to the "Horgen Culture". Among the rare artifacts that the Achaeologists found here, are remnants of textiles, of a shoe, or sandal, as well as a wooden bowl and ladle, and other wooden utensils.
 Neolithic
 3147-3142, 3001-2998 and 2842-2821 B.C.
 Lake of Constance "Gnadensee"
 398 m.a.s.l.
Size of the site 2,7 ha / approx. 4 soccer pitches
Size of the bufferzone 6,6 ha / approx. 9 soccer pitches
Special Features & Highlights
Exceptionally beautiful finds were pearls and pendants from shells, stones, and a dog's canine, as well as a shafted dagger and a hand axe, made of flint that originated in northern Italy and was imported across the Alps.
Composite Flint Dagger with wooden handle, front and back on black backdrop, ca. 2900 BC. © M. Erne / Landesamt für Denkmalpflege im Regierungspräsidium Stuttgart (LAD)
Current Activities
The site is regularly monitored and controlled by the Department of Antiquities and Monuments.
Pile Dwellings up close
The site can be visited at Strandbad Allensbach, Strandweg 30, 78476 Allensbach.
A selection of finds is in the exhibition of the Heimatmuseum Allensbach.

Heimatmuseum Allensbach
Rathausplatz 2,
78476 Allensbach
zur Webseite