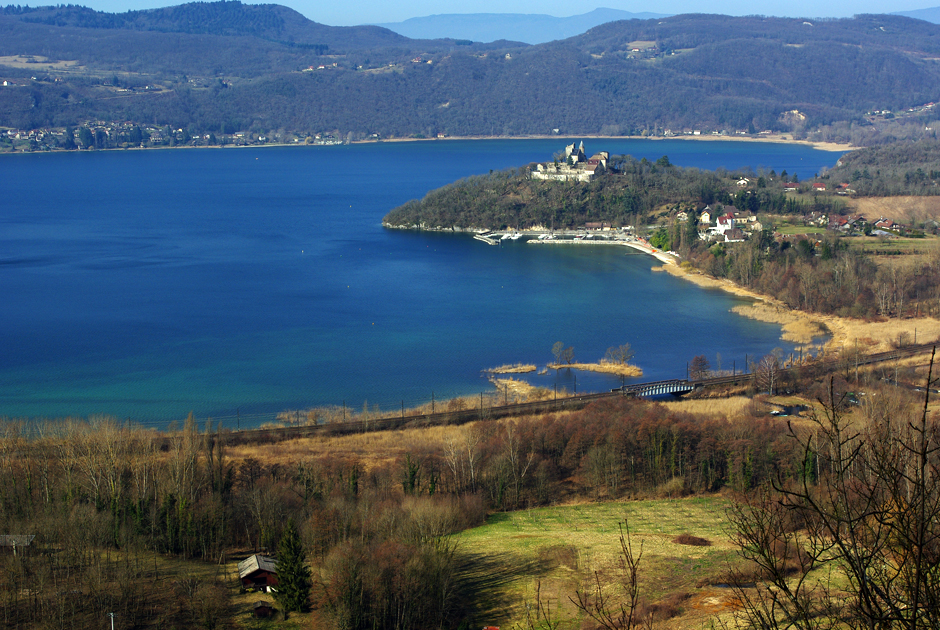 FR-73-04
View of the north shore of Lac du Bourget from the Chambotte massif; in the foreground the bay of Châtillon and in the background that of Conjux © Yves Billaud / MC – DRASSM
 Chindrieux |  Baie de Chatillon
Short description
During the second half of the 19th century, the settlement of Châtillon was subject to "Fishing for Lake Antiquities", which generated a rich and varied collection of materials and artifacts. The first archaeological diving investigations began in the 1960's. The topography of the piles was partially recorded and a first test-excavation showed the presence of preserved cultural layers. In 1986, core samples were taken, and a limited stratigraphic excavation, in 1990, confirmed the presence of anthropogenic levels, up to 70 cm thick. Their extent and stratigraphy were clarified during the 2006-2009 campaigns. The recording of the pile topography continues – so far it only covers part of the site – and it shows a dense and orthogonal organization of buildings, separated by narrow lanes.
 Bronze Age
 Late Bronze Age, 906 - 814 B.C.
 Lake Bourget
 228 m.a.s.l.
Size of the site 0,91 ha / approx. 1 soccer pitch
Size of the bufferzone 7,6 ha / approx. 11 soccer pitches
Special features & highlights
The archaeological materials are remarkably abundant and of high quality, particularly the ceramics, which are highly decorated in a combination of painting, engravings and indented patterns. A small number of figurines that were modelled in claymay represent religious objects. The site appears to be part of the overall organization of the prehistoric landscape, and perhaps functioned as a place of production and storage, for transport to the other side of the lake, to the station of Conjux 1. A remarkable point is that the occupation of many sites on the Lac du Bourget continued, for several decades, even after most other alpine lakesidesettlements had been abandoned.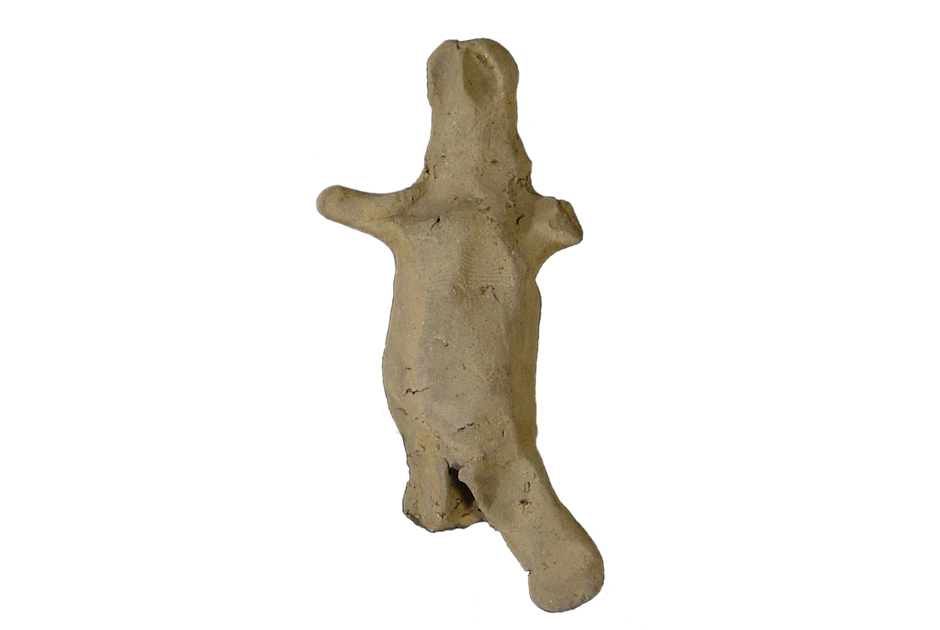 Female figurine modeled in clay, height 7.5 cm. The right leg was broken in antiquity, like that of the male figurine found nearby in the same level © Yves Billaud / MC – DRASSM
Current activities
In 2017, the site was the subject of a review, as part of the monitoring of Savoyard sites. The continuation of topographical surveys is planned.
Pile Dwellings up close

Far from the shore and covered by 2 to 3 m of water, the site is not directly visible. Moreover, anchoring of boats and diving are not allowed.
However, excursions with commentary, as well as cruises on the lake, are organized during the summer months by the Association of Heritage Guides of Savoie Mont Blanc.
Contact the Chindrieux town hall.
313 Rue de l'Église, 73310 Chindrieux
+33 (0)4 79 54 20 36

The Musée Savoisien in Chambéry is currently undergoing a complete overhaul. It has a very important collection of objects from the pile dwellings of the Lac du Bourget, mainly built up in the 19th century. Soon, some of them will be visible again, but in a different scenography from the room that has been dedicated to them until now.

Musée Savoisien
Square F. de Lannoy de Bissy,
73000 Chambéry
to the website